Cleanse & Enrich your CRM Data
DataDoctor is your 1-click destination for assessing your CRM data quality, cleansing it & enriching it with intelligence to make your data your most powerful asset.
Audit
The DataDoctor Audit gives your a birds eye view of the good and bad of your CRM data to help you prioritize your data cleansing tasks.
Verify
DataDoctor's CRM verification helps you validate email address, check phone numbers, mailing addresses & more.
Cleanse
DataDoctor helps you de-dupe your company and contact data so your CRM data is clean & your reports display accurate information.
Append
CRM data append helps you add key missing fields like email, phone, website, industry, revenue, employees & more.
Trusted by Global Companies
DataDoctor is dead easy to use and takes just minutes. Marketing & sales leaders from global companies leverage DataDoctor for all their data cleansing needs.
Stop Marketing to Bad Data
Bad data costs an average company about 12 percentage of revenue. Don't let dirty data ruin your marketing & sales dollars. See how DataDoctor can help you fix every problem.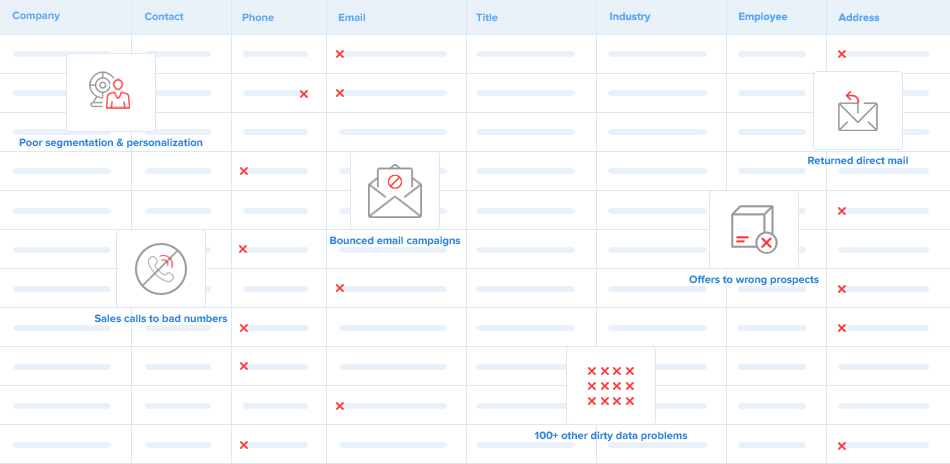 Get started in the next 1 minute.
DataDoctor empowers marketing & sales leaders with a 1-click CRM data cleansing & enrichment - simply upload your CSV file, choose what you want cleansed and that's it. DataDoctor does the rest & let you know when your file is ready for download.
Start with a free account. No credit card required.